71 percent in from Iowa
It's Wednesday, two days since the Iowa caucus, and we have 71 percent of the results reported, showing Sanders in first on the first-preference ballot, Sanders in first on the final-ballot preference, and a complicated and close contest for the delegate lead. The satellite caucuses, set up for students, workers, the elderly, and disabled people who couldn't make the 7 p.m. caucuses will be counted last, and Sanders and Klobuchar organized for those, and nobody else did.
That means that if the delegate race stays close, Sanders will likely win that when the satellites are counted, and Klobuchar might actually pass Biden for fourth, leaving him with a finish that would have been disastrous if it had been announced when people were still paying attention.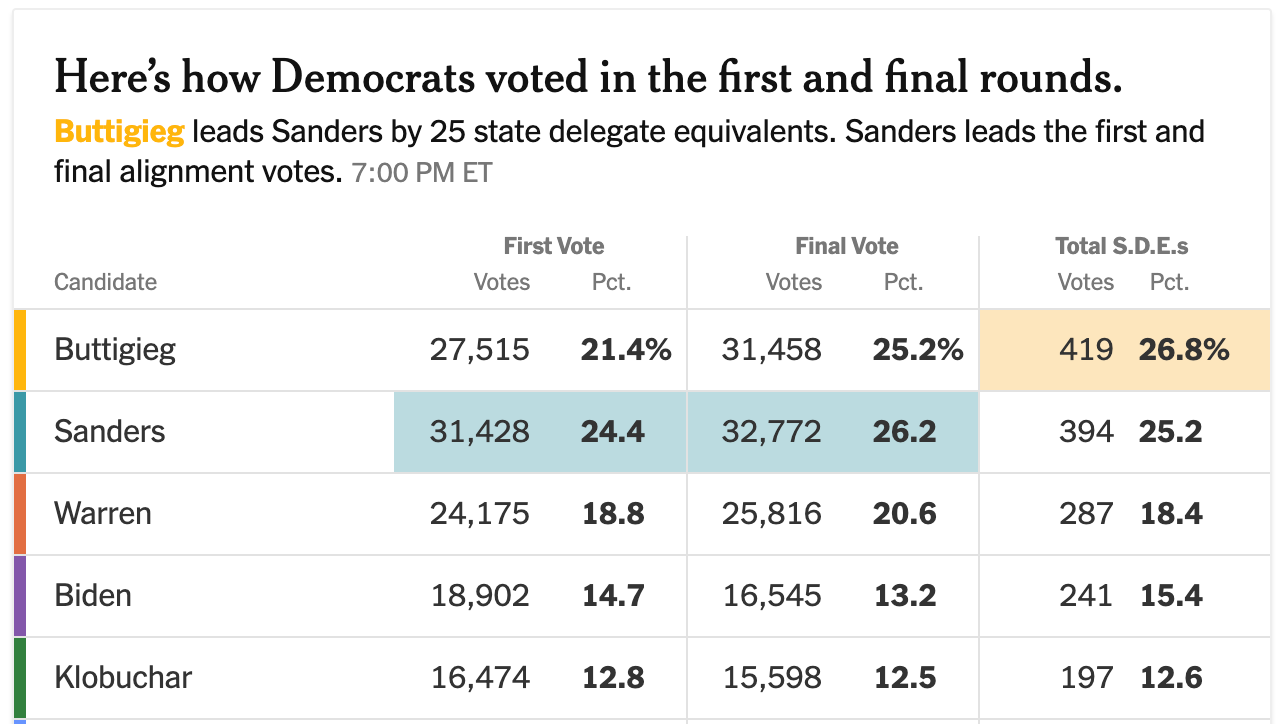 I filled in for Jeremy Scahill this week and hosted his podcast Intercepted from Iowa, and even without final results, I think you'll still enjoy listening. We link Sanders' candidacy to his support of Jesse Jackson and the Rainbow Coalition in the 1980s, and follow three different caucuses as they sort themselves out. Some of the history will be familiar to readers of my book, but we found some new cool archival audio too.
On Tuesday, at Sanders' first press conference, I asked him what he made of the preliminary reports that turnout had not exploded in the way he hoped, and he acknowledged they didn't hit 2008 levels. (Question comes at the end.) A couple interesting points on that: The '08 caucus was early January, when college kids were at home and flocked to the polls for Obama; this was in February, when they're back at school. And Sanders wanted to turn out non-traditional voters, not necessarily all voters. Biden's terrible showing suggests a lot of regular Dem voters who will show up in the general stayed home on caucus night, which would have depressed overall numbers. But it's an interesting question and one we'll keep following.
Iowa app debacle
A company called Shadow Inc. built the Iowa Democratic Party's app that blew up the caucuses. That firm is owned by the company ACRONYM, founded by Democratic operative Tara McGowan, who has sold herself and her constellation of firms as the lone experts in the field of digital strategy and technology. Just last year she announced a $75 million digital program, backed by wealthy donors, to counter Trump. Lee Fang has a great story on the company and the web of operatives involved, and was on Democracy Now this morning.
Now it's on to New Hampshire, where I am now. Last night, Sanders packed a few thousand people into an indoor-tennis bubble, and candidates are crisscrossing the state ahead of this coming Tuesday's primary. And it's all happening against the backdrop of Trump's climbing approval ratings and his ability to turn the State of the Union into a combination of a game show and reality TV.