Dem governor considering signing bill that would help Trump win PA...And a new 2020 Indivisible survey
Pennsylvania's Democratic Governor Tom Wolf has on his desk a GOP voter-suppression bill that would make it appreciably easier for Donald Trump to win in 2020 -- and he's seriously considering signing it.
The bill would lead to much longer lines, particularly in Philadelphia, because it would ban what's known as straight-ticket voting. Banning the practice has been a longtime goal of RNC Chair Ronna McDaniel, specifically for the purpose of suppressing Democratic turnout. Wolf is considering signing the bill, overwhelmingly opposed by Democrats in the legislature, because it also includes much-needed money for new voting machines. For that, he might trade the GOP a huge advantage in 2020. Urgent story in The Intercept by Akela Lacy.
In case people are curious, here's how you contact the governor's office.
New 2020 Survey of Indivisible Members
Local groups that sprang up around the country under the banner of Indivisible have become one of the most powerful political forces in Democratic politics in the Trump era, and which direction they move in the primary could prove critical, particularly because of how active their members are.
A new survey was sent out June 27th, immediately after the second debate, and was completed by more than 16,000 Indivisible members. It was released by the Indivisible national office this morning. Asked which candidates (plural) they are considering, members mentioned Elizabeth Warren most often, followed by Harris, Buttigieg, Castro, Booker, Biden, and Sanders, in that order.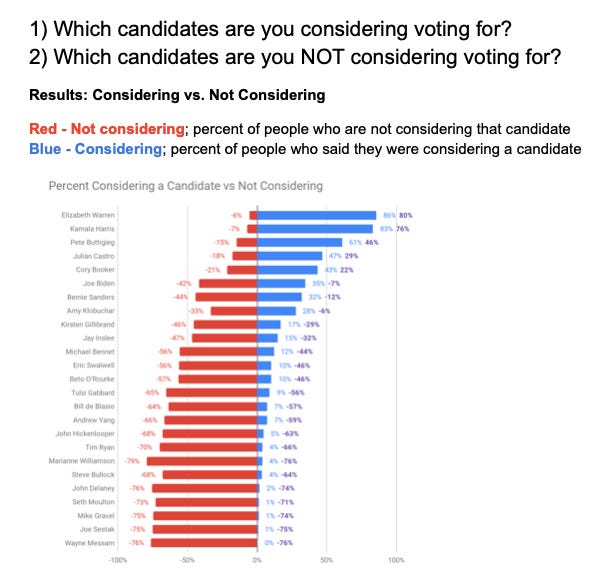 If the election were held today, the order went: Warren, Harris, Biden, Sanders.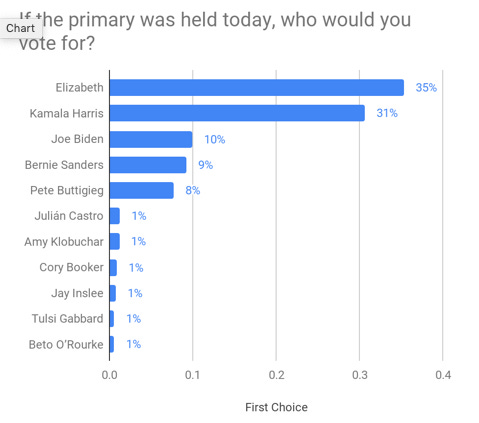 Speaking of Warren, I published a new excerpt from my book, We've Got People, on the political journey Warren has taken.
Regular reminder to buy the book if you haven't. And if you have, buy it for a friend!