Ilyse Hogue book launch invite...And a major arrest
I am incredibly proud to be able to share news of our latest book: The Lie That Binds, by Ilyse Hogue.
It's a fast-moving history of what eventually became the movement to oppose abortion rights. The book's important for a number of reasons, but two are at the top of my list: It exposes the cynicism and fraud that underlies the movement.
But it also points to a path not just toward winning the fight for reproductive freedom, but at the same time stripping Republicans of a critical organizing tool they've used to prop up their broader reactionary project. Put simply, abortion politics were not actually controversial in the 1970s, and even a majority of evangelicals supported the right to legal abortion access. But as school desegregation faded in the 1970s as a useful issue for right-wing movement leaders to organize white voters around, they went hunting for a replacement to keep the culture wars raging. That's just the beginning of this fascinating book, which draws on years of work done by NARAL's storied research team, where Hogue serves as president.
The upshot is that if Democrats recognize that legal access to abortion is actually extraordinarily popular with the public, and take that fight on rather than run from it, they can undercut what has become a driver of the evangelical vote -- the lie that binds their coalition together -- which then breaks apart the forces that came together to elect Trump.
I can't recommend it highly enough. If you buy it and don't think it was worth it, I'll personally buy your copy back from you. If you know anybody else in your life who needs this book, please forward them this email, or buy them a copy.
If you want to avoid Amazon and still get free shipping, you can get the book through Barnes & Noble here. Please do.
On Thursday from 6-7 pm eastern time I'll be moderating a conversation with Ilyse at her book launch celebration which, true to our times, will be held on Zoom. If you'd like to attend, rsvp to: TheLieThatBinds@ProChoiceAmerica.org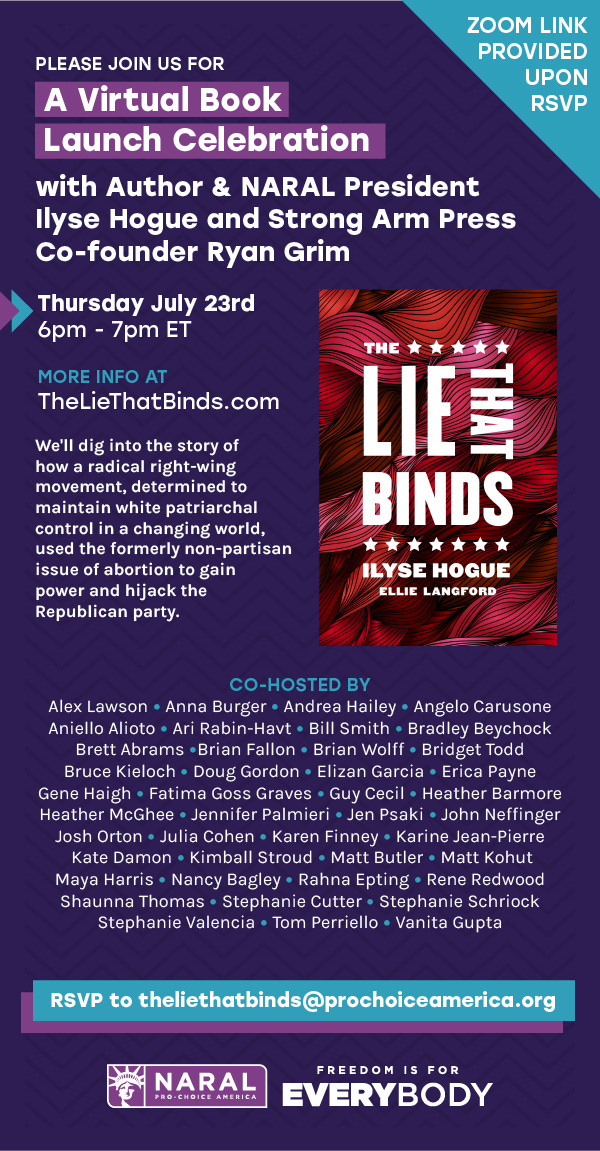 On the news front, I have a story up this evening on how Trump's threat to deploy secret federal police around the country is coming just as Democrats in Congress are debating granting him expanded surveillance powers and new money for DHS. Trump's rogue behavior is giving opponents of those projects new ammo.
And you may recall a story Akela Lacy and I did in 2019 about a corrupt arrangement in Ohio where a nuclear power company funded a slate of Republicans to oust other Republicans, all with the goal of extracting a $1.1 billion bailout. It seemed criminal to me at the time, and today federal authorities arrested the Ohio House Speaker and other co-conspirators we named in the article, and they're facing serious prison time in what prosecutors are describing as a $60 million bribery and racketeering case. Details from the local press here. Sometimes I feel like I'm flinging these articles off into a void -- and sometimes things like this happen. I'm pretty blown away.