What Trump fears
Update: The book I mentioned last night, which we just launched, has shot up to #11 in the country. Wow. Thank you.
And now to regularly scheduled programming:
When it comes to his re-election, Donald Trump has two principal fears, which for a long time he thought he could confront separately: Populism, and money. He has grown obsessed, his aides say, with the endless amount of dough Mike Bloomberg is willing to put into either his campaign or that of another Democrat if he doesn't win the nomination. He's also starting to get concerned about the populist energy stirred up by Bernie Sanders -- which, combined with Bloomberg spending a billion dollars or more independently against Trump, could be a deadly combination.
I wrote about Trump's new fears today, and the story includes a video compilation of Trump's increasing focus on "Crazy Bernie," demonstrated by this chart: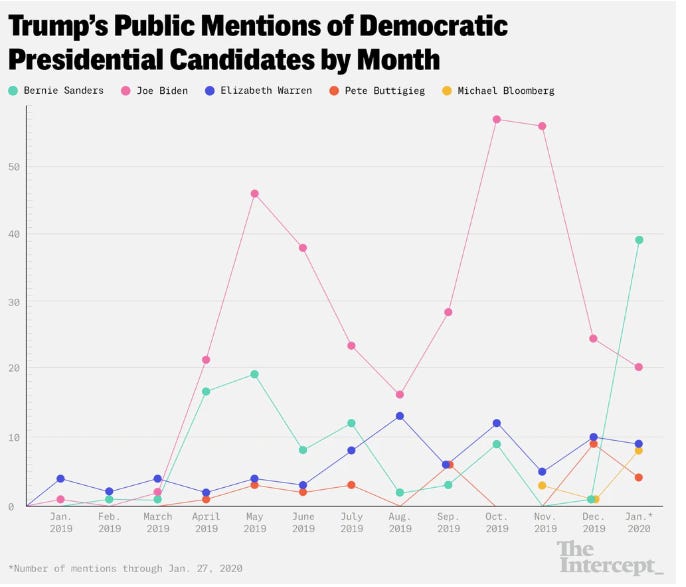 Last night I asked people to let me know if they've switched from one candidate to another, and if so, from whom to whom and why. The responses have been fascinating and illuminating, and apologies if I haven't replied yet, I'm still working through them. If you'd still like to answer, you can reply to this email or write to ryan.grim@theintercept.com. If you do NOT want to be quoted in an article, please say so. It also helps if you tell me a bit about yourself (age, region, job, that sort of thing) -- as many of you did. I was a bit surprised at how many people who read this email told me they're switching to Sanders, not because they're enthusiastic about him, but that of the candidates, many of you said you thought he was the most likely to win.
Also thanks to all of you who bought The Populist's Guide to 2020, and if you haven't yet, you can do that here. The book is written by Krystal Ball and Saagar Enjeti, hosts of the morning show The Rising. (Krystal was out today and I filled in for her. Here was one of the stranger segments.)